Go-Go's' Kathy Valentine Looks Back on Rock 'N' Roll 'Vacation'
<!–– ERROR Retrieving Feed 2872 ––> 2513 Imported from a malfunctioning feed

Bassist spoke to UCR about her memoir, 'All I Ever Wanted.' All I Ever Wanted, the new book from Kathy Valentine of the Go-Go's collects her stories from the incredible journey that the bassist has taken as a member of the group.

Clocking in at just under 300 pages, It's also unflinchingly honest, taking stock of the low points and the things that could have been, while also illustrating the path that Valentine took and the struggles she faced as she was growing up. All I Ever Wanted details how those challenges ultimately helped to prepare her to soldier through the unbelievable series of events that would follow once she left Austin, Texas, and went to Hollywood to make her dreams real.

Along the way, there would be plenty of learning experiences and, in addition to the war stories that are inside the book, there's also valuable perspective that Valentine feels can still be beneficial knowledge for people who are making their own music today.

"I think it [will be] fun for people to read why we just rushed into a second record [1982's Vacation] and how that was the band was doing that -- how dumb it was," she tells UCR. "Hopefully, musicians will get something out of that. Even though it's a very different music business now, some things never change and I hope that young bands or young people -- musicians that read my book, will learn from those mistakes. Maybe you have a team behind you for a reason. Maybe you listen to other people. It was just so funny, we were like, 'We're calling the shots. We know what's best for us.' And it was just the dumbest thing that we ever did."

Late nights with John Belushi found the comedy legend making a call to the local Guitar Center and getting them to open the door so that he and Valentine and friends could jam. Another adventure included Belushi concocting a plan to shoplift a six-pack of beer. "Drinking and cocaine were vices, for sure," Valentine writes in her book. "But they played a secondary role to wanting to hang out like a couple of teenagers digging music and having a couple of beers."

The band would open for their heroes -- hand-picked by the Rolling Stones for a date in Rockford, Ill., during the Tattoo You tour. Playing a well-received set to kick off the night, the rest of the evening would take on new meaning as Valentine watched the Stones run through their setlist, still glowing from her own performance and wondering what was up ahead for the Go-Go's.

They had already been working hard, touring for nearly half a year. Their success was a combination of things, including the belief of their label, I.R.S. Records, the early airplay support of college stations and "rogue DJs" and tireless interviews and promotion that would eventually see "Our Lips Are Sealed" rise to the Top 20 of the Billboard Hot 100. "We Got the Beat" would climb even higher, peaking at No. 2.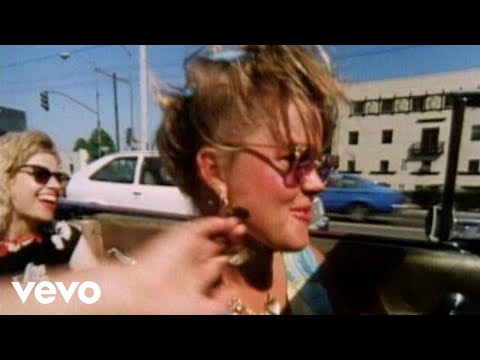 <!––NOFDP 2825 ––>