The Heaven & Hell Show: Episode 17
<!–– ERROR Retrieving Feed 2872 ––> 2513 Imported from a malfunctioning feed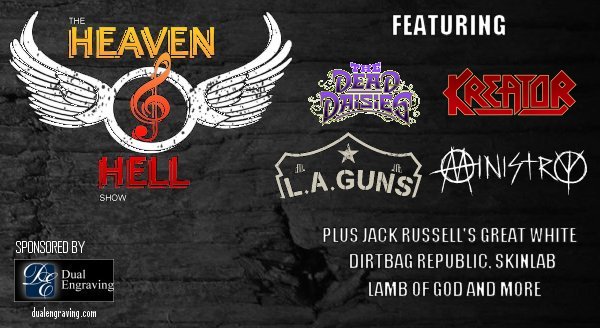 Episode 17 of The Heaven & Hell show…presented by The Rockpit and sponsored by Dual Engraving. Each episode is split into 2 segments – The first hour is Heaven, which represents the hard rock and blues and the second hour is Hell, which showcases the heavier side of music.
Intro song: Warbirds – "Contain The Rage"
Heaven is hosted by Mark Rockpit, senior editor at The Rockpit. This segment features all new music from The Dead Daisies, Vega, LA Guns, Dirtbag Republic and much more.
Hell is hosted by Andrew Massie, general manager at The Rockpit. This segment features Eric Peterson from Testament plus new music from Lamb Of God, Ministry, Skinlab, Kreator and more.
See below for options on how to listen to the show.
This podcast is also available for free via iTunes or the Podbean app for Android and iPhone via Google Play & Apple Store. Download the app at the links below, install and then search for "Heaven & Hell show" OR "The Rockpit". Subscribe to be notified for early access to each show every month!

<!––NOFDP 2825 ––>