Administrator
Staff member
Yet, that was indeed the case as Def Leppard's 'Pyromania' quietly amassed phenomenal sales which now number over 10 million copies sold.
It seemed that the world was at the Sheffield quintet's doorstep, as along with producer "Mutt" Lange, they looked to further their accessible metal sound in order to reach the masses. Unfortunately, it seemingly all came to a screeching halt on New Years Eve 1984 when drummer Rick Allen was involved in a horrible car wreck which subsequently resulted in his left arm being amputated. Amazingly, Def Leppard set new standards in remaining loyal to a band member when they announced that they would continue on with Allen behind a customized electronic kit where he would use his legs to do some of the work his arms did.
Tellingly, one of the first things noticed on opener and lead U.S single 'Women' is the pounding high mix of the electronically-tinged drums. Along with the darker atmospheric guitars and the near 6 minute length, it was a strange choice as opener, but builds up well to a satisfying conclusion. Of more concern (on initial listening) is following it up with the not too dissimilar track in 7th single 'Rocket'. A tad more accessible and glammy than the opener, what 'Rocket' does do over its near 7 minute duration is build up to what is – in this reviewer's opinion – the greatest four song sequence in musical history!
2nd single 'Animal' is a near-perfect mid-tempo rock track which contains an infectious sing-along pre-chorus and chorus in amongst some nice acoustic flourishes that have a rather steel guitar sound due to Lange's slick production. As good as 'Animal' is though, it is bettered by the following 4th single 'Love Bites', which redefines power ballad perfection. Joe Elliott's haunting vocals are brought to the forefront to tremendous effect here, while the layering of the backing vocals which were so effective on 'Pyromania' is mastered four and a half years later.
Things surely could not get any better, yet they do! Taking a cue from prior hit 'Rock Of Ages', the cheesy glam stomp of 5th single 'Pour Some Sugar On Me' is accentuated to the nth degree and becomes a memorable fan favorite. Both the rap-like vocals of the verses as well as the involving call and response method utilized during the chorus and breakdown, are sure to have the masses singing along to every word in stadiums around the world. Concluding Side-A is the criminally under-rated 6th single 'Armageddon It', which begins with an almost country-like guitar chord before turning into another involving call and response highlighted cut.
While it is an understatement to say that the second half of 'Hysteria' does not match up to the first, it is an impossible feat to achieve and contains many tracks that are still rock-solid. In a sense, it actually allows listeners to take in some of the more subtle nuances and strangely enough one of those is the guitar-work. Upon initial listening, it would seem that the guitar-work here is a step down from previous efforts, but it is actually more in the way the sound has been mixed. Producer Lange has practically gone in the opposite direction to his AC/DC work, this time using intricately layered guitar lines to help build the foundation of most songs, instead of being at the forefront. The downside to that is Rick Savage's bass work becomes less relevant.
Proof of the solidity of Hysteria's weaker side is that the tracks still stack up well when compared to similar cuts from the excellent 'Pyromania'. The epic sounding Ronald Reagan quoting 'Gods Of War' compares well with 'Die Hard The Hunter'. The almost poppy 'Don't Shoot Shotgun' matches up well to 'Comin Under Fire', while also providing a suitable lead-in to the heaviest song on the album; 'Run Riot', which in turn betters 'Stagefright'. To top it off, the should-have-been closer title track acts as another under-rated power ballad which some fans actually believe to be Hysteria's highlight! The experimentally poppy 'Excitable' and rather bland 'Love and Affection' were really not required, but do not hurt when viewed as bonus tracks over the LPs 62 minute duration.
Obviously, any album rating 5 stars and being deemed "classic" is going to be rather personal to some extent. Well, the best way I can convey that with regards to myself and 'Hysteria' is by stating that most people will have 10 separate albums which contain their all-time 10 favorite songs. In my case, it is only 9 albums as I have both 'Pour Some Sugar On Me' and 'Love Bites' in my top 10! Yet, this is by no means a two track album… 7 charting singles and over 20 million copies sold suggest that I am not the only person who believes so. Enduring, influential and a classic in every sense, Def Leppard's 'Hysteria' is quite simply one of the greatest albums of all time!
Tracklist for
Hysteria
:
1. Women
2. Rocket
3. Animal
4. Love Bites
5. Pour Some Sugar on Me
6. Armageddon It
7. Gods of War
8. Don't Shoot Shotgun
9. Run Riot
10. Hysteria
11. Exciteable
12. Love and Affection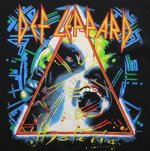 Stream Or Download Album
Last edited: