Administrator
Staff member
After releasing two excellent hard rock staples in
Rising
and
Long Live Rock 'n' Roll
, Rainbow's leader Ritchie Blackmore was once again not satisfied. Despite the quality of the band's previous albums, sales were not as terrific as Blackmore wanted them to be (read: as good as Deep Purple's used to be). In order to take care of that little issue, he decided to pursuit a more commercial direction, moving away from the medieval/mystery/fantasy themes of previous releases. For this, he brought in Roger Glover for production reasons, who had played with him in Purple's Mark II (Glover had since some time quit playing bass and gone on to produce for numerous famous artists, such as
Judas Priest
). A surprising move, as Blackmore himself had initiated firing him five years earlier. It however created friction with Dio, completely against a commercial take on Rainbow's music. Dio left, and Blackmore lost an amazing vocalist. Bad for him, good for Dio, who would first create the classic
Heaven and Hell
with
Black Sabbath
, and then pair up with Jimmy Bain (who Blackmore had fired after
Rising
) in order to record yet another classic record in
Holy Diver
.
After all this, Blackmore still hadn't given up his habit of firing good musicians. Getting rid of both bassist Bob Daisley and keyboardist David Stone, he created a void in Rainbow that needed three spots filled. For a vocalist, he initially wanted Ian Gillan to replace Dio, but the singer hadn't forgotten about Blackmore's egoistic behaviour in Deep Purple, and turned him down (though Gillan would actually replace Dio later, in Black Sabbath). Blackmore obviously got what he deserved. He eventually found Graham Bonnet to sing for the band. Donald Airey joined on keyboards (Airey has since made his name as veteran player, working with a great many acts, and has been in Deep Purple since Jon Lord's retirement). Finally, whilst searching for bassists, it was Powell who suggested Glover could perfectly well play bass along with producing the album. And indeed, why not? Glover agreed and when all hustle and bustle was settled, a brand new Rainbow released
Down to Earth
in '79. Still got at all that? Good.
More than between any other Rainbow releases, the changed line-up is extremely evident. Dio had been singing for the band since their inception, and his powerful vocal presence had a great impact on their sound. Bonnet suited Blackmore's new view well, and made such an ideal candidate because of his cocky attitude. And believe it or not, the man does actually have a share of charisma and power in his voice, surpassing the average commercial hard rock singer in the era. He very much defined a new time for Rainbow.
And frankly, while many will bash the commercial approach on first sight, as compared to the mystical/epic/fantasy of Rainbow's first three, there is actually something to be enjoyed here. I've heard dozens of far, far worse examples of hard rock bands going commercial, to be honest. Hit song and opener
All Night Long
is a perfect indicator of what
Down to Earth
is all about; with its cheesy 'I wanna love you, all night long!' chorus, it is very wrong indeed. The same goes for
Since You Been Gone
('oooh, since you been gone!').
Down to Earth
is just so wrong it works.
But it only works because it pairs Bonnet with Blackmore. His leads haven't grown any less catchy. In fact, they're more catchy than ever, be it the heavier ones (
All Night Long
) or the slow-burning blues ones (
Love's No Friend
). He delivers one of his trademark solos along with it, which have seldom been unsatisfying, and the basic formula for every song on
Down to Earth
is set. The face of Rainbow may have changed, but Blackmore's guitar skills were still the very same.
As unbelievable as it sounds,
Down to Earth
is an album that works tremendously well for its approach. It holds no candle up to the Dio Years, but that was already an impossible feat to achieve from the beginning. Blackmore gets the maximum out of his new direction, as well as out of his formation. On the other side of the perspective, we do know the guitarist belongs in something better, but
Down to Earth
is not a great album with Ritchie Blackmore on it. Down to Earth is a great album because Ritchie Blackmore is on it. You've got to be in a cheesy mood for it, but really, it is a great listen. Really.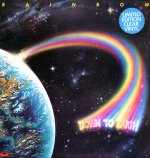 Stream Or Download Album
Last edited: